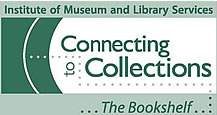 I subscribe to the RSS feed from the Institute of Museum and Library Services (IMLS), and so saw a press release encouraging institutions to apply for the free IMLS Connecting to Collections Bookshelf.
The IMLS Connecting to Collections Bookshelf is intended to provide small and medium-sized libraries and museums with essential resources needed to improve the condition of their collections. The Bookshelf includes books, DVDs, and other collections resources, as well as a Guide to Online Resources and a User's Guide to all of the materials. It addresses such topics as the philosophy and ethics of collecting, collections management and planning, emergency preparedness, and culturally specific conservation issues.
The Heritage Preservation has created both a 48 page Bookshelf User's Guide, with a page dedicated to each resources selected for the bookshelf, and a Guide to Online Resources to be used as a companion to the bookshelf. The Bookshelf User's Guide has a brilliant section at the end giving you pointers to specific sections of the various Bookshelf resources to answer special questions – such as 'Where can we find information on raising funds for collections care?' and 'How can I prioritize the needs of our collections?'.
What is interesting is that it took me a while to realize that each of the institutions that is awarded The Bookshelf will actually receive the books. My past experience with O'Reilly's Safari Books Online made me assume that the books would be only accessed online. The Safari Books Online site requires a paid membership, but then provides access to an ever growing electronic reference library. The total number of resources is listed as currently over 5,000. One level of membership, Safari Library, provides unlimited access to all the resources (currently listed as $42.99 a month or $472.89 per year) while the less expensive membership level, Safari Bookshelf (currently listed as $22.99 a month or $252.99 a year), provides access to up to ten titles at a time.
Seeing those prices got me wondering, what will the receivers of this bookshelf be getting and what it's total cost would be? I found my way to a list of the books and resources that will be included. Between the Internet and the 48 page guide to the Bookshelf I found the following information about each element of the Bookshelf. IMLS has broken the bookshelf down into three subsections as shown below:
Bookshelf: The Core Collection
Bookshelf: Nonliving Collections
Bookshelf: Living Collections
Grand Total
The maximum cost (with no membership discounts) to purchase all the components of The Bookshelf would be $951.87. Add in the cost of shipping and printing your own copies from the free downloads and we can probably talk about the monetary value of the Bookshelf being approximately $1000!
Online Acces
While researching all of this I came across a new option on Amazon.com – something they are calling Amazon Upgrade. For an additional fee above and beyond the price you pay for the physical book – you can have immediate and permanent online access to the content of that book. Take a look at the offering explained on the Amazon page for The National Trust Manual of Housekeeping: The Care of Collection in Historic Houses Open to the Public. I assume that they plan to increase the titles for which this is an option. If so, I can envision building an online reference shelf of one's own – one title at a time. Rather than deciding that something like O'Reilly's Safari Books Online has enough books to make it worth while for you – you will create your own custom online reference shelf.
The other half of the online access story is of course the number of resources that are posted online for free download (or as living HTML documents being updated over time). These are all the resources from the list above that can be downloaded for free:
What if all the resources that those who care for collections need were available via an online bookshelf? Now that would be an amazing resource for which many would be happy to pay an annual fee. Perhaps it could be provided as part of the membership fee for one or more of the appropriate professional organizations. An additional benefit to an online collection is the opportunity to receive automatic updates and new editions. I will also keep an eye on the Amazon Upgrade option to see how easy it is for someone to build their own online reference shelf – but I think a purposeful online collection designed for cultural heritage institutions would be even more compelling.
Getting the Bookshelf
A lot of organizations have already received the Bookshelf, but the press release that got me looking at all this mentioned that the next (final?) application period will be from March 1 through April 30, 2008. Recipients will be announced in July of 2008.
If you are considering applying you can find more details about the application process and review the questions you must answer online. But even for those that don't qualify (federally operated and for-profit institutions are not eligible) – the Bookshelf User's Guide, the Guide to Online Resources and those resources that may be downloaded for free provide a powerful combination of materials to support institutions and individuals as they care for collections of all shapes and sizes.
Note: All prices quoted in this post were valid as of January 27th, 2008. Image shown above from IMLS Connecting to Collections Bookshelf page.