Navigating the rapidly changing landscape of new technology is a major challenge for archivists. As quickly as new technologies come to market, people adopt them and use them to generate records. Businesses, non-profits and academic institutions constantly strive to find ways to be more efficient and to cut their budgets. New technology often offers the promise of cost reductions. In this age of constantly evolving software and technological innovation, how do archivists know when a new technology is important or established enough to take note of? When do the records generated by the latest and greatest technology matter enough to save?
Below I have include two diagrams that seek to illustrate the process of adopting new technology. I think they are both useful in aiding our thinking on this topic.
The first is the "Hype Cycle", as proposed by analyst Jackie Fenn at Gartner Group. It breaks down the phases that new technologies move through as they progress from their initial concept through to broad acceptance in the marketplace. The generic version of the Hype Cycle diagram below is from the Wikipedia entry on hype cycle.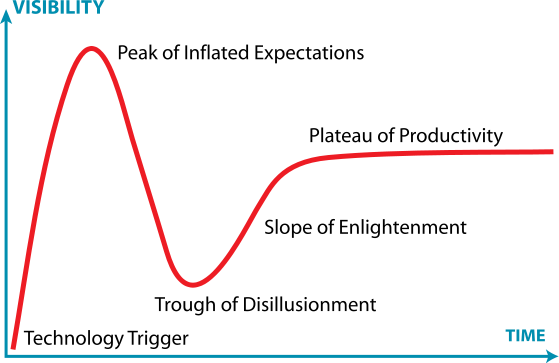 Each summer, Gartner comes out with a new update on Where Are We In The Hype Cycle?. Last summer, microblogging was just entering the 'Peak of Inflated Expectations', public virtual worlds were sliding down into the 'Trough of Disillusionment' and location aware applications were climbing back up the 'Slope of Enlightenment'. There is even a book about it: Mastering the Hype Cycle: How to Choose the Right Innovation at the Right Time
.
The other diagram is the Technology Adoption Lifecycle from Geoffrey Moore's Crossing the Chasm. This perspective on the technology cycle is from the perspective of bringing new technology to market. How do you cross the chasm between early adopters and the general population?
Archivists need to consider new technology from two different perspectives. When to use it to further their own goals as archivists and when to address the need to preserve records being generated by new technology. A fair bit of attention has been focused on figuring out how to get archivists up to speed on new web technology. In August 2008, ArchivesNext posted about hunting for Web 2.0 related sessions at SAA2008 and Friends Told Me I Needed A Blog posted about SAA and the Hype Cycle shortly thereafter.
But how do we know when a technology is 'important enough' to start worrying about the records it generates? Do we focus our energy on technology that has crossed the chasm and been adopted by the 'early majority'? Do we watch for signs of adoption by our target record creators?
I expect that the answer (such as there can be one answer!) will be community specific. As I learned in the 2007 SAA session about preserving digital records of the design community, waiting for a single clear technology or software leader to appear can lead to lost or inaccessible records. Archivists working with similar records already come together to support one another through round tables, mailing lists and conference sessions. I have noticed that I often find the most interesting presentations are those that discuss the challenges a specific user community is facing in preserving their digital records. The 2008 SAA session about hybrid analog/digital literary collections discussed issues related to digital records from authors. Those who worry about records captured in geographic information systems (GIS) were trying to sort out how to define a single GIS electronic record when last I dipped my toes into their corner of the world in the Fall of 2006.
It is not feasible to imagine archivists staying ahead of every new type of technology and attempting to design a method for archiving every possible type of digital records being created. What we can do is make it a priority for a designated archivist within every 'vertical' community (government, literary, architecture… etc) to keep their ear to the ground about the use of technology within that community. This could be a community of practice of its own. A group that shares info about the latest trends they are seeing while sharing their best practices for handling the latest types of records being seen.
The good news is that archivists aren't the only ones who want to be able to preserve access to born digital records. Consider Twitter, which only provides easy access to recent tweets. A whole raft of third-party tools built to archive data from Twitter are already out there, answering the demand for a way to backup people's tweets.
I don't think archivists always have the luxury of waiting for technology to be adopted by the majority of people and to reach the 'Plateau of Productivity'. If you are an archivist who works with a community  that uses cutting edge technology, you owe it to your community to stay in the loop with how they do their work now. Just because most people don't use a specific technology doesn't mean that an individual community won't pick it up and use to the exclusion of more common tools.
The design community mentioned above spoke of working with those creating the tools for their community to ensure easy archiving down the line. In our fast paced world of innovation, a subset of archivists need to stay involved with the current business practices of each vertical being archived. This group can work together to identify challenges, brainstorm solutions, build relationships with the technology communities and then disseminate best practices throughout the archives community. I did find a web page for the SAA's Technology Best Practices Task Force and its document Managing Electronic Records and Assets: A Working Bibliography, but I think that I am imagining something more ongoing, more nimble and more tied into each of the major communities that archivists must support. Am I describing something that already exists?