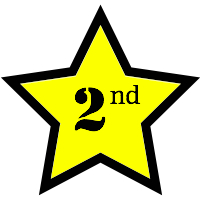 The title says it all. I won 2nd place in the "Smart Computers and Computing" section of the University of Maryland's Graduate Research Interaction Day (GRID) for my poster ArchivesZ: Visualizing Archival Collections (what is in all those boxes?).
1st place in "Smart Computers and Computing" went to the fabulous Dave Levin for his presentation on TrInc: Small Trusted Hardware for Large Distributed Systems.
Overall, it was a great experience. I wish I could have been in multiple rooms at the same time so I could have seen more posters and presentations. I also wished I had understood that I could have presented with either a poster or a power point deck. That was not entirely clear ahead of time. The downside of of my choice was being tied to my poster, but the upside is that I still have the poster that can be examined by readers like you. Obviously it all worked out in the end.
A big thanks to everyone in the Graduate Student Government who worked so hard to bring this event together.