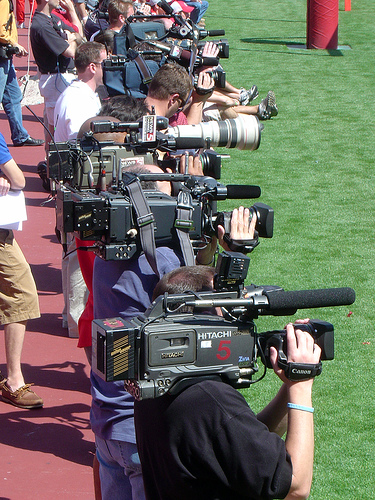 My work now includes more SEO (Search Engine Optimization) work and so I have added SEO focused blogs to my RSS feedreader. Today I spotted Search Engine Land's post Business Opportunities For Video News Archives. Stephen Baker calculates that 35 years worth of archive footage equals 51,100 hours of content per station. With approximately 20 stations per broadcast group he estimates a cost of $30 million per group to digitize each broadcast group's archive of news footage. See the original article for more details on his calculations.
He then proposes 3 approaches to monetizing these efforts and leveraging the resulting digitized video:
Media-Centric Wikipedia – complete with an expectation that social media contributions would provide "scalable way for creating editorial metadata, such as descriptions and story summaries that would be costly to otherwise create". This makes me think of Flickr Commons for video.
Education Site – akin to NBCU's iCue site I mentioned in my post about NBC News Archive footage on Hulu. "Efforts like this provide educational/subscription opportunities as well as sponsorship/advertising opportunities—what advertiser doesn't want to get in front of 13 – 18 year olds?"
News Site Extension – described as "bolting the news archive onto the existing site". The major benefit of this is that "more content provides more SEO opportunity and, hence, larger audience reach."
Baker concludes:
In a market where traditional media is struggling to create unique and compelling online experiences and business models, the archive represent a differentiator that can jump-start audience building and monetization initiatives. Not only is it an important representation of world history that must be saved for "preservation-sake", the archive represents a large, untapped online opportunity.  Who will be first to realize its potential?
The ultimate goal of all three of these scenarios is to offset the extreme expense of digitization of thousands of hours of news footage. I think it is refreshing to see a perspective from outside the cultural heritage corner of the world that still sees video archives as rich resources worth preserving. I also like seeing ideas that are pitched in manner that should catch the attention of those making budgets and struggling with finding funding for large digitization efforts.
Image Credit: Flickr photo OSU Spring Game 2006 Media Lineup by Chris Metcalf